I am currently visiting my friend Faith (from Blessed Quietness) and her husband and 5 boys in the desert :). I traveled down with her sis, who was my friend first, Grace and her husband David. It has been an eventful couple of days :). We drove all night on Friday got to their house Saturday at 4:30 am and left for the Miramar air show at 6:30 am after a short nap. We were there all day! The boys did so well! They love jets so much (even Issac who does not like their noise but still loves them - especially Fat Albert who flys the Blue Angels "because he is so quiet"). We went to church Sunday and watched the football game. Then we spent today doing school and seeing what Faith does every day (she is a strong woman, I will tell you that).
Edit: We had some fun with tatoos too!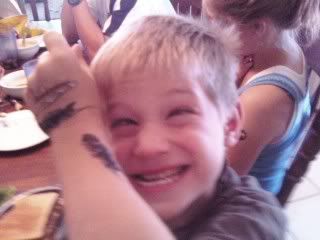 All the boys showing off their tattooed muscles! How strong! Even baby John looks tougher with Batman tattooed on his chest! Tomorrow we will say goodbye and Grace and David will drop me off in LA at my parents house. I am going to Knott's Halloween Haunt to see my little brother at work (I may wet my pants when we go through his maze, I do not like to be scared). I will be there until the 16th! 8 days at home will be the longest stay I have had since I got engaged! I hope to see my friend Dano and my little cousin Mika and the rest of the family if they have time. I miss them a lot. I will probably update again before heading home :).