My poor laptop (or Lappy as I fondly call it) had open heart surgery last night and like Humpty Dumpty still hasn't been put back together again completely (I tell you, it was like watching my baby being opereated on!) But hopefully it will be up and running later today when Hubby decieds to tackle it again...

So I know you lovely people have been waiting on the edge of your seats for me to announce my big news... Some of you may have guessed already that...


We have been waiting a bit for this and we are really excited! We wanted to wait until after our first appointment with the OB just to be sure, which is a bonus because it means I have a pic for you!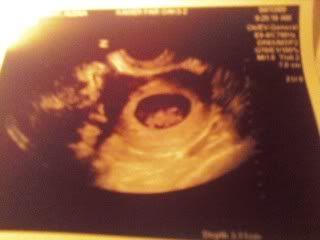 Please bear with me as my focus in this blog transitions to motherhood (because it's like an extension of my mind, ya know?)
Love you all!