Is it supposed to start this early? I "dropped into" a baby store (Goore's, for people in Sacramento) yesterday and 3 hours later came out shell shocked but giddy... I got to see the crib set we picked out before we knew it was available online only, Talked to reps about cloth diapering, baby wearing (she talked me into buying a sling), and diaper bags...


I also found a humongo giraffe that I really really want to put in baby's room, I even have the perfect corner for it, alas it is $99... I also got talked into registering there because they are the only store around that has the cloth diapers that we think we are going to go with (Bambino Mio, anyone heard of it or used it? It is a prefold system with cover just like Tidee Didee uses), and I signed us up for a cloth diapering class sponsored by the company later this month... Like Becky said, "It's like all of a sudden you are really pregnant" lol... She was referring to the fact that I can actually eat for two now (I proved that at Ikea the other day, eating in a sitting what Toby and I normally share)...


I also was able to stomach (and enjoy) Dill Pickle and Cherry flavored shaved ice last weekend in front of Becky who tasted it and nearly gagged... I came home from the 3 hours of awe at Goore's to a room full of baby furniture that needed to be assembled, so I enlisted Tim's help... He took my crib apart and painted it for me, so he kinda knew better than the rest of us how to put it back together (we should have taken pictures before taking it apart, cuz he had even painted over the brand name and totally couldn't remember it to look online for instructions lol)...


When Toby got home, he helped Tim also put together the changing table my mother in law got us the other day...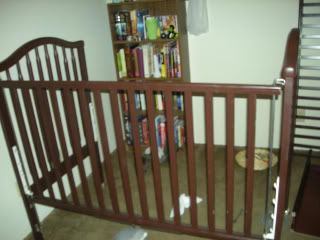 And then I cleared all the posters and books that reflect Toby and I and put them up in the hallway (still need to find a home for the books though) so we could move the bookshelf around and figure out how we like the setup...


I think this is what we are going to go with...