Megan @ INfertile Myrtle posted this tag and I thought it was fun so I tagged myself...



This is my Big Mama Kathy Van Zeeland bag... It was a Christmas present from my Mama and I think it was about $45 at Ross...



At any given time you can find all these electronics in my purse (unless I am using them at the moment)... Orange Camera Case (usually has my Camera inside, but I kinda needed it to take this pic), 8 GB iPod Touch, my Nintendo DS (at the moment has Mario Party DS and Brain Age 2 in the case, but I have GameFly so the first game changes out quite frequently), and my EnV2 phone and Bluetooth (stuff in the sheer bag is the portable charger for my Blutooth), I almost always keep this extra memory card and a flash drive in there too (the flash drive was in use at the moment)



The Essentials: Keys, Wallet, Sunglasses, Various writing utensils, and my gym pass



Random Crafty Stuff: Ribbons and Elastics to make bows for Bailey, A Felt Heart off of Bella's Diaper Cake, a Necklace and matching earrings that I made, and a hand stamped Bag of kisses from my friend Carol...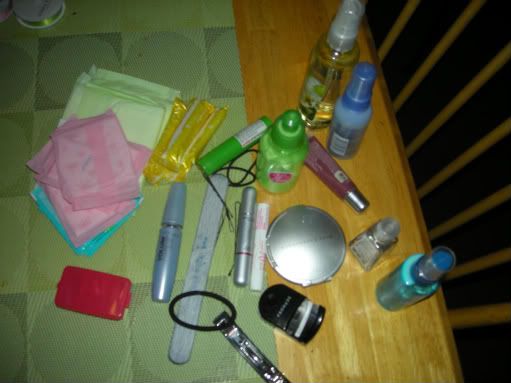 Lots of Girly Crap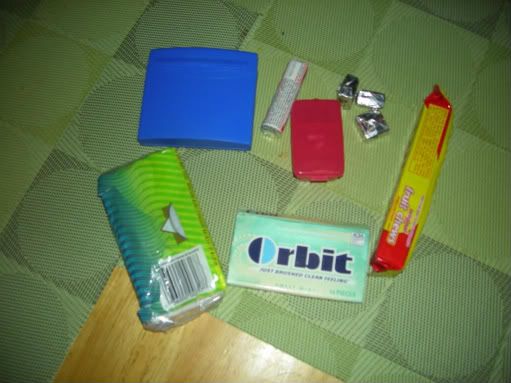 Meds, Tissues, Gum and Candy



Reciepts, Ticket Stubs (2 for Twilight, 1 for Grand Torino), a Warrenty Check for my Ring, some notes that I wrote to figure out Toby's Vacation days this year, and A bunch of Gum Wrappers and some "Purse Gum" (as my brother Andrew calls it, the stuff that gets out of the pkg and rolls around the bottom collecting lint)



I promise it all fits in there (I threw out the junk though), sometimes I even cram my big ol' makeup bag in it too (doesn't zip then though)...

I won't tag anyone, but if you feel like doing it, feel free, it's fun!