I got some amazing stuff for baby Cohen from all my friends and family in LA this weekend as well as some our friend Vicki (loads of furniture and some clothes) and some from a super sweet sample sale! I figured I'd post a few pics so ya'll can see what we have already (in case the stores messed up on updating the registries as usual hee hee)...
Sample Sale: Only spent $100!!!


Cocalo Alphabet Soup Set: Growth Chart, 2 photo frames, 2 sets of wall hangings, Matching blocks, Switch plate cover, Night Light, & Wall Border Decals; 2 blankets, Baby timer, Nursing cover by Hooter Hiders, A box of 6 pairs of socks, Booties, 2 Swaddling blankets, A Sun shade for the back window, and some chewable jewlery...


...But wait there's more... A comforter that coordinates with the one we have in case it gets baby puke on it :), Teresa got one for her crib too (at $10 a pop you can't beat it)


...And even more! Diaperbag by gr8x with changing pad and pacifier holder (the side pocket is insulated for a bottle)... and a coodrinating Diaper "wallet" by Skip*hop that is mostly a changing pad that has pockets for the included refillable wipes case and a couple of diapers... I like it, very grab-and-go... But everything in the last three pics was included in the $100!!! We even got Gracie a Diaper bag as well!
Baby Shower:


Crib from Vicki, Moremi by Cocalo Crib set from mi Mama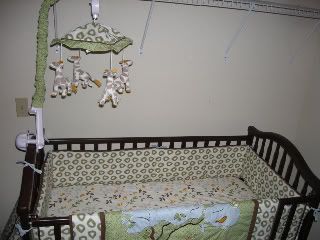 Matching Mobile from Auntie Marcie "Boo Boo"


Daddy Diaper Bag from Uncle Larry, Aunt Sandy, and the girls, Felice and Marisa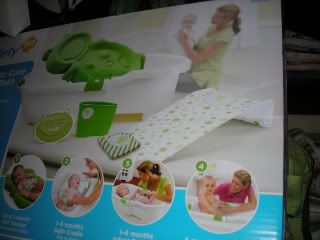 Froggy Bath Tub Kit from "Tia" Aimie


High Chair from Sadie (she made Cohen a "Sadie Blanket" too, my fave baby blanket I had was made by her, super special lady, and one of my Nana's dear friends)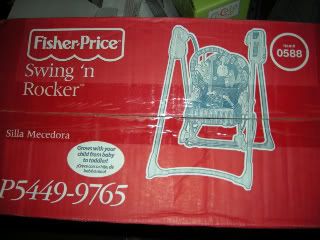 Swing that turns into a Toddler Rocking chair, also from Auntie Marcie "Boo Boo" :)


Pack and Play Yard from Liz and the Girls, Mandy, Allison, Angela, and Sasha


The start to a great wardrobe :) Many people contributed to this :)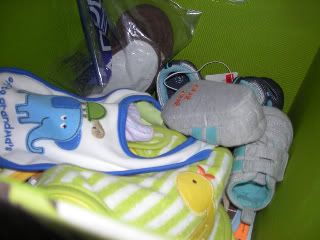 Lots of Bibs, a couple hats, and a couple pairs of shoes


Bath and Safety Stuff


In The Dresser: Drawer #1 - Sleepers and some socks


In The Dresser: Drawer #2 - Lots of Onesies, Some Rompers, Shirts, Pants, A cool Harley Davidson outfit (thanks Amy), a cute brown sweater, and a cute "church shirt"


In The Dresser: Drawer #3 - Lots of toys, which I know will quickly outgrow the drawer and soon be on the floor :) We should look for a toy box or something on CraigsList, Joanne gave me the cute Giraffe Band and the Monkey Harness!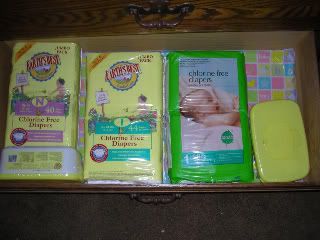 In The Dresser: Drawer #4 - Diapers and Wipes of the Earth Friendly Variety, My little way of "consuming less and creating more" I guess... We will be cloth diapering at home, but sometimes when you are out and about, you just really need a couple disposables...


Okay I know these shelves need some organization, but I was starting to lose steam... I just wanted stuff off the floor... Up here is A car organizer, a travel blanket, and sunshades for my car from Joe and Vivian, a nursing cover by Bebe Au Lait, A Baby Ka'tan wrap that Teresa got me at Goore's, and a whole bunch of the other stuff listed in the first picture from the sample sale...


So many beautiful balnkets, from so many beautiful people (the yellow knit one is Nana-made and the white one is Sadie made)


More Diapers and Wipes and blankets :)


Lots of receiving blankets and a couple burp cloths


Cohen's first Buddies :) Giraffe from Grandma Terri and Elephant from Auntie Marcie "Boo Boo"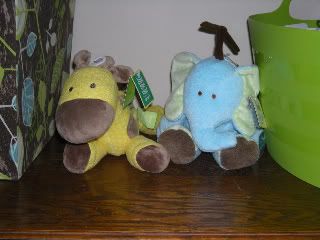 Musical "Buddies" Giraffe from Liz and girls, Elephant from Auntie Polly and Rachel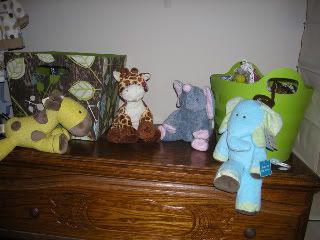 Chillin'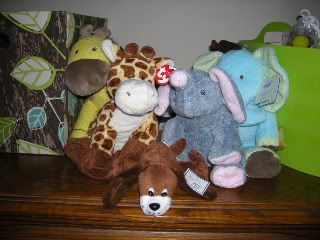 All the Buddies (including March of Dimes "Auggie Doggie" from Julie and Ashley)