Okay, here it is, the finished
Twilight Garland!
This garland was inspired by
Becky's
Twilight Christmas Tree...It is not as fluffy as some of y'alls but I am working on limited resources here
(and the weak mantle can't hold much more than this, what were they thinking pushing a mantle all the way to the wall???)... Sorry for the lousy pics, once again, my real camera's dead, it has been for about 4 months now...
An Apple
from the first book, Twilight
A Delicate White Flower
from the 2nd book, New Moon
(this one needs some red in it to look more like the cover)
A Red Ribbon
from the 3rd book, Eclipse
And the
pièce de résistance

A Chessboard
from the 4th book Breaking Dawn
(and that is Toby's begrudged contribution to the decorations)

I also put some snowy wire garland on it because in one of the books they get stuck in the snow (and it adds some sparkle) and I also stuck some red feathers in little bunches on it (aren't you proud of me
Nester
?) I tried to make it not look objectionable, but all the picks and add ins looked real... real fake! to me (sorry for the corny joke there... I was having a father's daughter moment)
And not at all related to books, but another little inspired touch, some mini rusted barn stars peeping out of one of the pre-assembled picks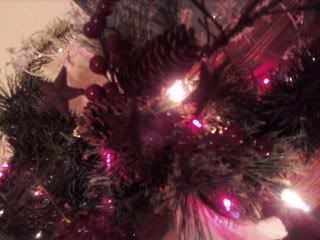 (I totally bought it because of that... the rest of it looked kind of
objectionable
, but I really don't think anyone but me will notice)...
And one more thing
My Peacock tree
(it is much more subdued compared to last year, trust me)
It is a running battle/joke between my sweet hubby and myself that started last year when I wanted to do a classy peacock
inspired
tree, he said no way no how and so my friend borrowed this mini tree I had from the previous year (yes, that was my
only
tree the year before I got married, sad, huh?) and covered it with peacocks and the most outrageous ornaments she could find (which were all FAR to large for the little tree) and put it up in my entryway for Toby to be mortified by anytime someone came over... It stayed up till mid January last year :)