...is looking a little less Charlie Brown now...

I got some ornaments in the mail from my
GG
forum
friend Kimmys0606 and her sweet kids (I had to Photoshop in a glittery snowflake cuz my camera phone couldn't catch the pretty clear snowflake that her son picked out (but that's right where it is hanging)... They filled out that empty open space at the top nicely, thanks guys!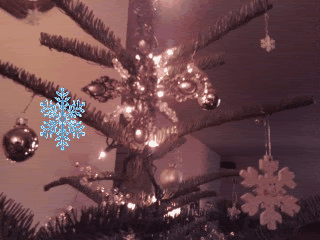 I also took some comment love/advice and picked up some sparkly and pearly garland and added them to my tree (it took 4 of them, but since my tree is small enough it is worth it :) and some pkgs of mini snowflakes from Michael's clearance bin (89 cents for 20, that's better then Dollar Tree, huh
Yaya
?) I could probably do more lights, but I am too lazy to take off everything to put more lights on... Maybe I will buy some when they clearence out for next year...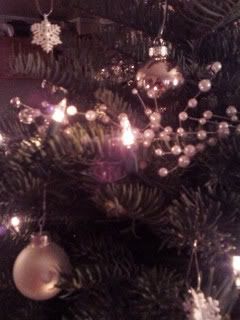 I think all it needed was a little love and some presents under it to make it look less bare, thanks for your advice gals...
The garland is still looking
P.O.O.P.I.E.
but I will work on it tonight after I finish cleaning up this mess I made last night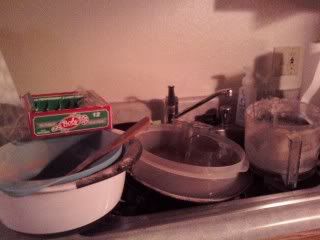 while I was working on these Hot Cocoa Jars and Bags (which I still need to finish and check off my to do list)